AUSWUCHTGEWICHTE/BALANCING WEIGHTS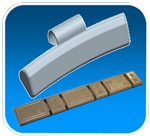 Auch bei der Auswuchttechnik haben wir unsere eigenen Vorstellungen von einem ökonomischen und ökologischen sinnvollen Weg der Produktwahl. So führen wir eine große Anzahl an neuentwickelten Produktreihen von Auswuchtgewichten, die unübertroffen in Form und Passgenauigkeit sind.

LIEFERPROGRAMM:
Schlaggewichte PKW / LKW
Klebegewichte PKW / LKW
Motorradgewichte
Einzelsegmentgewichte
Auswuchtpulver
Zubehör
Also in the part with balancing weights we have our own ideas of an economic and ecological sensible way of the productline.
In our range we have a lot of newly developed products perfect in form and fit to the rim.
DELIVERYPROGRAM:
Hit weights / Car / Truck
Stick on weights Car / Truck
Motorbike weights
Single piece weights
Balancing Compound
Accessories