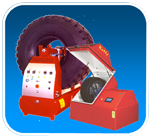 Für Erfahrung, Kompetenz und Zuverlässigkeit stehen wir auch im Bereich der Werkstattgeräte, denn wir kennen uns in dem Bereich "Rund um`s Rad " sehr gut aus und wissen worauf es ankommt, wenn man Räder in Bewegung bringen will. Wir machen uns stark für Sie, damit Sie im entscheidenden Moment den Partner an Ihrer Seite haben, der mühlos und mit Abstand Umsätze realisieren lässt, um die andere mühsam kämpfen müssen.

LIEFERPROGRAMM:
Räderwaschmaschine
Tyre Inflating Cave
Vulcanizing machines
Hebebühnen
Wagenheber
Hebekissen
Also in the area of workshop equipment we have a lot of experience, competence and reliability " Around the tyre" because we know a lot about the area. We fully support you, so that you have a partner standing by your side when you need him. This way you will realize by far more easily turnovers that others may have to struggle for.
DELIVERYPROGRAM:
Tyre Inflating Cave
Tyre Washing Machines
Vulcanizing Machines
Platform Lifts
Jacks
Lifting Air Bags