Ohne das passende Ventil ist schon so mancher Reifenmonteur verzweifelt und da gibt es wirklich eine riesige Vielfalt an Typen. Mit über eine Million Ventilen verfügen wir über einen umfangreichen Lagerbestand, aus dem der Kunde jederzeit termingerecht bedient werden kann.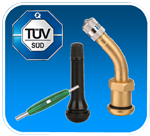 Von den gängigen Snap-In Ventilen, bis hin zu ausgefallenen Spezialventilen für LKW-Leichmetallfelgen, oder Radlader- und Traktorreifen findet der Fachmann bei uns alles, was für eine perfekte uns sichere Montage gebraucht wird.

LIEFERPROGRAMM:
Snap In Ventile
Ventileinsätze
Motrradventile
Metallventile
AS- Ventile
EM-Ventile
Ventilverlängerungen
Clip & Hebelstecker
Many a tire mounting mechanic has become desperate without the fitting valve and in fact, there exists an inexhaustible variety of types. Not without a reason do we keep in this range a substantial stock of more than one million pieces, which enables us to supply our customers always schedule.
Beginning with the popular Snap-In –Vales, up to very unique valves for truck light metal rims, or wheel loader – and tractor valves, the specialist will find everything in our program to assure a perfect and safe tire mounting job.
DELIVERYPROGRAM:
Snap In Valves
Special Valves for Motorbikes
Metalvalves
Valve Cores
Valve Caps
Truck-Valves
EM-Valves