VULKANISATIONSMATERIAL / TIRE REPAIR METERIAL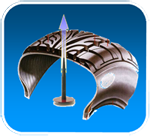 Reifenvulkanisationsmaterial zur Kaltvulkanisation wurde erstmals von Herrn Fritz Hesselbein in Hamburg entwickelt und serienreif produziert. Die Firma Reinheimer ist seit Beginn dieser revolutionären Entwicklung Hersteller und Vertriebspartner solcher Produkte.
Mit einem optimalen Produktmix in diesem Bereich bieten wir Ihnen ein leistungsstarkes Programm für die Heiß und Kaltreparatur an.

LIEFERPROGRAMM:
Schlauchflicken
Schnellreparaturmaterial
Automotivmaterial
Radialpflaster / PKW / LLKW / LKW / AS / EM
Diagonalpfaster / LKW / AS / EM
Vulkanisationslösungen
Industrieklebstoffe
Cold vulcanizing tire repair material was developed for the first time 1919 by Mr. Fritz Hesselbein in Hamburg / Germany and is successfully produced and marketed ever since. From the early days of this revolutionary development Reinheimer has participated in the production and distribution of this products.
With an optimal product mix in this area we offer you an efficient program for the hot and cold tyre repair.
DELIVERYPROGRAM:
Tube-Patches
Inserts Automotiv Tyre Repair Material
Plug Patches
Hot & Cold Radial-Patches
Hot & Cold Biasply-Patches
Self-Vulcanizing Solutions
Conveyor Belt Repair Solutions